At Ducati, this crowning of Pecco Bagnaia among the riders, which gave the brand the triple crown, was especially appreciated by Gigi Dall'Igna. Indeed, the Commander-in-Chief of this Red Army has put an end, with this achievement, to the dominance of Japanese brands in MotoGP. A competition at all levels, both on the track and on the green carpet where it was necessary to justify having been more competent by scrupulously respecting a regulation, which has since begun to be modified to curb the ardor of the men of Borgo Panigale. Despite all the cheating, taunting and bad faith often passed on by losers, the coronation in MotoGP finally came. He has been expected since 2007 and Casey Stoner while another appears in WSBK, whom Ducati has been waiting for since 2011 and Carlos Checa. At the heart of these challenges and this success, the same man, Gigi Dall'Igna, who cannot help but think of Honda after having collected the laurels of glory in Valence…
The first comments of Gigi Dall'Igna they were first in the Valencia race, whose start was to brake in the first laps fabio quartararo to prevent it from escaping through the head: Pecco was good at making him lose precious tenths says the Venetian strategist. " This is a result that is not only good for me, but also for those who work at Ducati and for all our fans and customers around the world. It took 15 years to repeat Casey's triumph, but I think now we can open a cycle.with a Pecco that we will find even stronger in 2023 ".
The Italian specifies that there is still a crown to come: " the dream continues. Because next weekend, in Indonesia, Álvaro Bautista could also win the Superbike title. We also had a crazy season there and Álvaro is having fun now. Obviously, in MotoGP as in Superbike, we have the best bike ". And it all started with one, which is thus identified: the GP15 was the bike with which we risked the most », analyzes the man from Ducati Corse to 'La Gazzetta dello Sport'. " But from that moment there have been evolutions, changes, adjustments that have brought us to this point. ".
"The Ducati GP15 was a turning point for us"
" It was the dream I was waiting for and that is why I came to Ducati, therefore it is a great satisfaction. he adds. " In my plans, I thought to win the World Championship before, but MotoGP is a very difficult category and it takes so long. Summarizing my work since I joined Ducati is difficult. When I arrived I started to get to know the people who work in the company, then I spent time understanding the strengths and weaknesses of the employees, and I must say that I have always been able to count on a great team. . So we started working on the GP15, this bike was a turning point for us. From that moment on, the situation evolved, we took many small steps that brought us here. reveals the engineer.
" We know that we won a challenge that was not easy, but we did it. I am aware that the next stage will be even more difficult, we will try to stay at the top but reconfirmation is always difficult. ". Then he adds: the beginning of an era? I don't know, but without a doubt this year has been fantastic. I know I have very good technicians by my side. also specifies the one who revealed himself to aprilia, also bringing Noale's brand titles and victories. After Gigi Dall'Igna Finished : " I'm curious to see what Honda will come out with. Maybe then Ducati will copy the Honda. You always have to have your feet on the ground to build the best motorcycle. But I will certainly never ask for a change in regulations to ban the innovations of others. ". Their competitors have shown less scruples in the matter, which has made them infinitely smaller.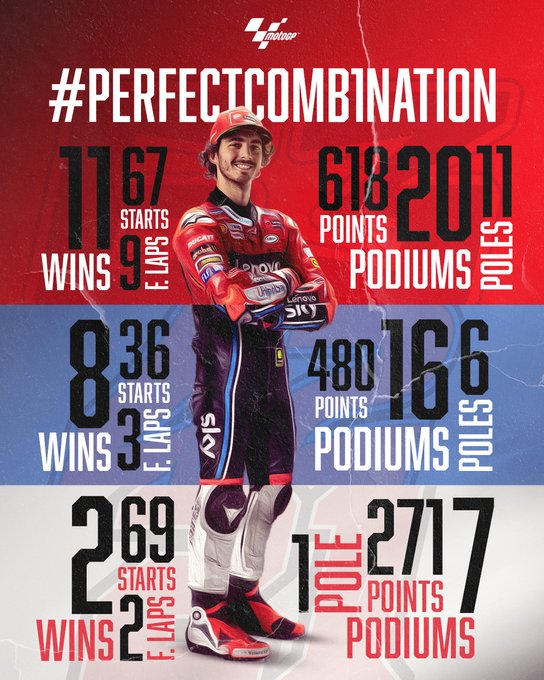 MotoGP Valencia: classification
Motogp.com qualifying credit